Cast and Designers
Witchcraft Production – Year III
Emily Tognet

'Mary MacMurren'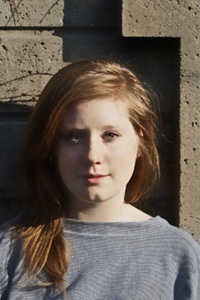 Emily Tognet is happily cruising through Concordia's Theatre Performance program. She was grateful to have been included in the Witchcraft project as Mary MacMurren, and enjoyed every minute hobbling around. Incredible thanks to Christina Iovita for the freedom to create.
---
Graham Berlin

'Black Bawldy'
Graham Berlin hails from Calgary, Alberta and is a second year theatre performance student. Graham's passion for acting and theatre began at a young age when he discovered sketch comedies and the energy, laughter and relationships it could create. Witchcraft is the first Main Stage production Graham has done at Concordia, however in this upcoming semester he will be rehearsing for a documentary drama based on the relationships between students in the John Molson School of Business.
---
Vanessa Nostbakken

'Nurse'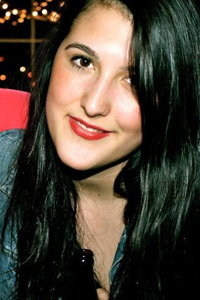 Vanessa Nostbakken has been involved in theatre since she was a child. Vanessa has been passionate about performance as well as writing and music, and has been getting her hands on as many creative projects as possible in her time in Montreal. Witchcraft was Vanessa's first Concordia main stage production. She played the Nurse- the comedic but suspiciously intelligent servant character. Vanessa very much enjoyed working with this role as the character seemed to keep changing to have more and more dynamic elements of comedy to her. Witchcraft was a very smooth and organized production as a whole, and had a great cast of hard working and fun people. Vanessa looks forward to continuing her studies at Concordia, and being a part of as many productions as she can!
---
Christian Jadah

'James Murrey'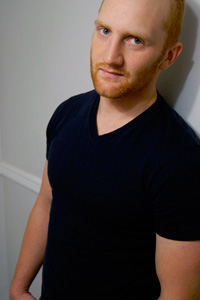 Christian Jadah was born and raised in Montreal, Quebec. He studied film/video production at Champlain College, where his love for acting outweighed his love for filmmaking. He is currently studying Theatre Performance at Concordia University. His role as Murrey in Joanna Baillie's Witchcraft was his first venture in a theatre production. Prior film credits include The Magnificent Sid (short film) and Bullet in the Face (TV series). Christian thanks the cast and crew for an amazing first theatre experience.
---
Danielle Laurin

Costume Designer
Danielle is a 3rd year undergraduate student in the Design for the Theatre specialization program at Concordia University. Growing up in Montreal, she attended several alternative education institutions, each with a focus on fine arts, music, and theatre. After obtaining her DEC diploma in 2009 from Dawson College in Arts and Culture, she spent a year in the Film Studies program at Concordia University before transferring into Theatre Design. Concordia credits include Who Nani Qui (2010), Dr. Faustus Lights the Lights (2010), The Darwin Project (2011), Witchcraft (2011) and the verbatim documentary drama Theatre_____Business (2012). Outside of school, Danielle has taken on several design-based projects, including interning for the Segal Center's production of Lies my Father Told Me (2011), where she assisted Montreal designer James Lavoie. In addition she took on the role of artistic director for the short film A Better Place (2011), produced by Les Films de la Meute, a Quebec film company made up of students recently graduated from l'INIS. She is currently in her last semester at Concordia and is set to graduate in April 2012.
---
Greg Walker

'Wilkin'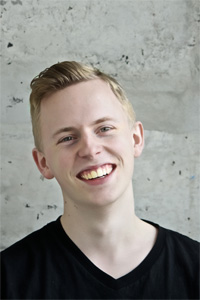 Greg Walker is a second year Theatre Performance student at Concordia University. He is from Ottawa, where he studied at L'école Secondaire Publique De La Salle with a specialization in theatre. As a prize-winning Best Graduating Artist there, he excelled in improv, choir, and had the chance to write, direct, design and act in his own original play Cet Enfer in his final year. Now at Concordia he has worked as an actor in A Treasury of Household Hints by Joanna Donehower, as assistant director for In Memorium by Josh Williams and Vanessa Nostbakken, and Witchcraft. He is now working on a production of The Last Days of Judas Iscariot by Stephen Adly Guirgis that will be performed in April 2012 and The Pillowman by Martin McDonaugh which will be performed in August. Greg was delighted to have had the chance to work on Witchcraft this past fall. It was a grand, exciting project in which he had the chance to revert back to his innermost animal instincts in order to play Wilkin the autistic son of Mary MacMurren. He will always look back fondly on growling back and forth with the wonderful Cristina.
---
Harper Duffy

'Lady Dungarren'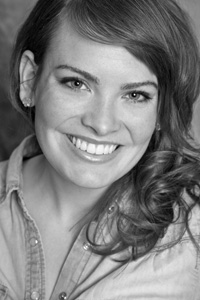 Harper is a second year Theatre Performance student and was thrilled to make her debut in Montreal as Lady Dungarren in Witchcraft. Growing up in Calgary, Harper was heavily involved in musical theatre. Notable shows include Fiddler on the Roof, Grease, High School Musical, Beauty and the Beast and The Mikado. Harper will be seen next in Processed Theatre's Nothing Never Happens in Norway at Montreal Fringe which is based on the works of Ibsen.
---
Casey Stainsby

'Jessie'
Originally from Vancouver, Casey is currently earning her BFA Specialization in Theatre and Development at Concordia. Recent projects include Witchcraft (2011) and Theatre _____ Business: Fill Us In (2012), a documentary drama. Casey is a member of the Footnotes Theatre Collective which creates image-based ritualistic performances. Playing Jesse has been an exploration of what lies beyond the text, as with so many of the "smaller" complex characters in Witchcraft. There are so many facets to the "madness" or "possession" resulting from the repression of young girls; Jesse represents an extreme case, but not an impossible one. Cristina's direction to find the natural impulses in melodramatic passions led to some deep human truths about what can emerge when we express our desires... or what happens when we cannot.
---
Rob D'Entremont

'SHERRIFF'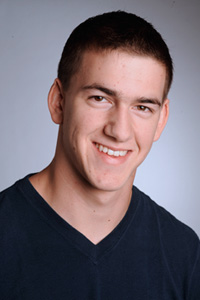 Robert d'Entremont is an actor currently studying at Concordia in the Specialization in Theatre Performance program. His hope in the future is to eventually work in the film industry as an actor/director.
---
Miriam Cummings

'GRIZELD BANE'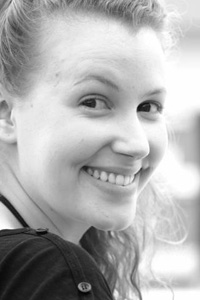 Born in London, ON, Miriam grew up performing in theatre, dance and choir productions. She is currently studying at Concordia University (BFA Theatre Performance, 2013). The Concordia community has provided Miriam with the opportunity to train for the stage both physically and vocally, as well as giving her the chance to learn about writing for the stage and performing her own work. In Witchcraft, Miriam played Grizeld Bane, a nomadic reputed witch who speaks to Satan. At first read, Grizeld seemed worlds away from Miriam as a character, which made for a very interesting rehearsal process. Through the process, Miriam found connections between herself and Grizeld and overall was very pleased with the character that emerged. Witchcraft was a wonderful experience for Miriam.
Benoit Trudel

'Baillie'
Benoît Trudel is a 2012 graduate from the Theatre Performance program at Concordia University. Fully bilingual, he has performed in varied student productions in both French and English.
---
Claire Hogan

'Elspy Low'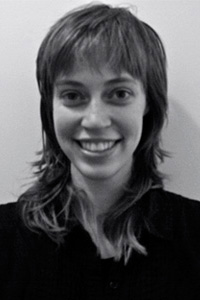 Claire Hogan is an undergraduate student finishing her studies in Theatre and Development at Concordia University. Witchcraft was her first production that took place on a stage, other productions during her degree have taken place behind puppets, in black boxes, and in parks, as parts of student initiated productions and work with Bread and Puppet. Claire graduates this summer and is looking forward performing at the Winnipeg Fringe Festival in July.
---
Natasha Perry-Fagant

'Lady Annabella'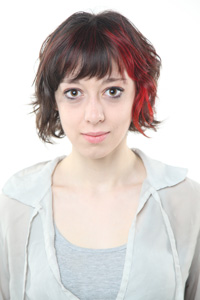 Natasha Perry-Fagant grew up in the small town of Summerland located in British Colombia's Central Interior. Natasha is currently completing her Bachelor of Fine Arts with a specialization in Theatre Performance at Concordia University in Montreal where she has enjoyed a plethora of both physical and theoretical acting classes. It was at the school that she was introduced to the physical theatre practice of Chinese Opera. Natasha partook in the 2011 Summer Exchange to the National Academy of Chinese Theatre Arts in Beijing. This training came to be immensely useful when tackling the role of Annabella in Witchcraft. The codifed gestures in both the Chinese vocabulary and the gestures of the passions were in many ways quite similar. Natasha hopes to continue to combine her physical training in Chinese Opera and her love of classical texts including Baillie, Shakespeare and Moliere.
---
Miranda Abraham

'Violet Murrey'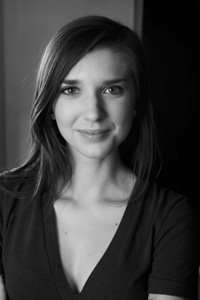 Miranda Abraham is a student in Concordia's Theatre Major program. Prior to attending Concordia she has appeared as Laura Wingfield in The Glass Menagerie and Puck in A Midsummer Night's Dream at Heritage College. This is Miranda's first Concordia main stage production and she is grateful to have been part of such an inspiring project. The role of Violet Murrey has been one of the most challenging and rewarding experiences to date. Many thanks to all involved for making this show such a pleasure from start to finish!
---
Mikey Santiago

'Gaoler'
Major in Theatre 2014. Hailing from little ol' Prince Edward Island, Mikey is a proud Maritimer who has known that he wanted to be an actor since the age of 3, and is very pleased to be studying at Concordia. "Witchcraft was one of the best productions I have ever been a part of. Every rehearsal was a blast. It was such a different show, and a different process of working that really made me excited. The Gaoler character was such an interesting and unique character, and I had so much fun getting to put myself in his position."
---
Sara Rodriguez

Stage Manager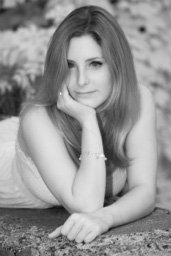 Sara Rodriguez is a recent graduate from Concordia University's theatre program in Montréal and a former graduate of John Abbott College, where she was awarded the Pamela Montgomery scholarship. She currently works as the General Manager for Beyond the Mountain Prodcutions while stage managing and performing on the side. Among her favorite stage credits are starring in Sala XVIII (a new production by Canis Tempus) playing Busty Stevens in Several Scenes Involving a Decomposing Corpse, Little Becky Two-Shoes in Urinetown: The Musical, performing in Doctor Faustus Lights the Lights by Gertrude Stein and Jeannie in the musical Hair. Her stage management highlights include Paul Van Dyck's acclaimed Paradise Lost ( New York City and Halifax-Beyond the Mountain Productions) Witchcraft (Concordia University), Quixote (Mtl-Canis Tempus), Not Wanted on the Voyage (John Abbott College), Down from Heaven and Bye Bye Baby (Mtl-Imago Theatre). Sara also works as a model and makeup artist in and around Montreal.
---
Hannah Gorham-Smith

Properties Designer
Theatre Design Specialization. Hannah worked with the three other designers to create a haunting conceptual environment where the audience and the actors alike could experience the dramatic themes of the play reflected in their surroundings. This production was a rewarding and dynamic experience and I hope to be able to work again with the great group of people involved in this project.
---
Mehrnaz Mohammadi

'Jessie 2'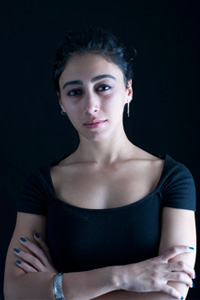 Mehrnaz Mohammadi was born on December 13, 1986 in Tehran, Iran. She studied graphic design at the Mahdieh High school in Tehran. She moved to Montreal in 2007, and got a degree in Set and Props Design at Lasalle College. In 2009 she got accepted to Concordia University in the Theatre Performance program. Her first main stage performance was Return of Ulysses (Bread and Puppet Theatre) directed by Peter Schumann. In 2010, she performed the role of Nawal in Scorched directed by Vernice Miller. She directed If you dare to… an original movement piece, and Anonymous Sin for Concordia's SIPA Festival. Most recently, she played in Listen To What You Can't Hear with Teesri Duniya Theatre. Recently she performed in a movement piece called Keeper for the Art Matters and Nuit Blanche Festivals directed by Jen Cressey. She is trained in both Chinese Opera and Corporate Mime. "I start from poems and stories, things I wanted to say in order to express my feeling of living in an unjust society. Seeing atrocities happening around me, I had to express them."
---
Parker Dorris

'Landlord'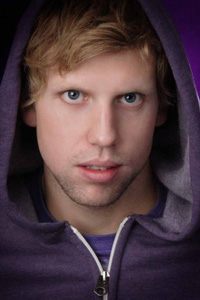 Parker is a third year Theatre and Performance student who has really enjoyed his time working on the Witchcraft project. "I have learned many things in the process and am excited to carry on what I have learned to other theatre projects I will be performing in the future. I would like to thank all the cast and crew for everything they have done in making this such a special project and I am looking forward to working with many of you again."
---
Tasha Davidson

'PHEMY'
Tasha Davidson is a B.F.A Major in Theatre and B.A. in the School of Community and Public Affairs. Tasha has been performing from a very young age. She found a passion in acting, singing and dancing and attended arts schools to cater to those interests. This year, Tasha performed in Theatre____Business: Fill Us In (2012). Even though the process for Witchcraft at times was long and grueling, it was a great experience. I believe that this play has a lot of themes that many people can relate to. I had an amazing time working with everyone and especially working on my Scottish accent. Thank you Witchcraft team.
---
Jake Zabusky

'ROBERT DUNGARREN'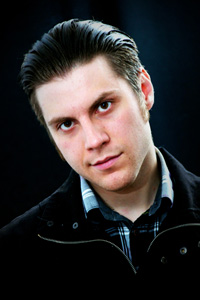 Jake Zabusky is in his fourth year at Concordia as a theatre / photography major. He is currently in the rehearsal process for The Last Days of Judas Iscariot as Satan. Previous works at Concordia include Dr. Faustus Lights The Lights, Scorched, Four and The Metamorphosis. Jake is also an active member of the MAP collective, a theatre troupe who is currently doing a monthly installment of MAP Season 1 at the Mainline Theatre.